Looking for a New Year's Day Black-eyed Peas recipe? These black-eyed peas are creamy and delicious with lots of flavor! It's a Southern tradition to eat black-eyed peas and cabbage on New Year's Day for good luck.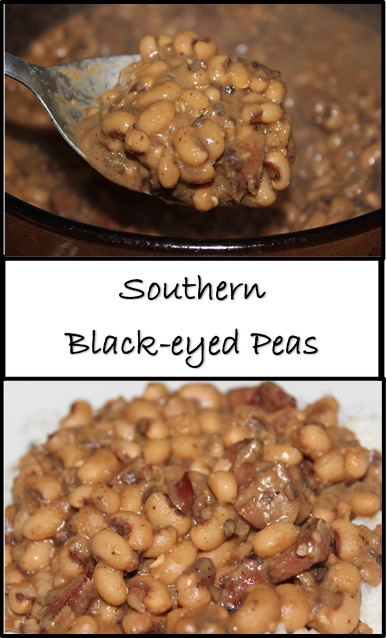 Happy New Year everyone! I hope you've enjoyed your first day of 2017 as much as I have, which means I have been cooking up some delicious recipes for ya'll! This is one of my favorite days of the year because we have an entire year to get ourselves together, but in order for us to start it off right we have to have cabbage and black-eyed peas. While I'm not a big fan of cabbage, I usually hide it in other food (such as my Unwrapped Cabbage Roll Soup), I do like black-eyed peas.
So, here is my recipe for black-eyed peas. These are creamy and delicious. As with all southern beans, you have to crush the cooked beans with your spoon to give it that creamy consistency. Check out this recipe, and I'm sure it'll become your recipe for making black-eyed peas (at least every 1st of the year!)
Once your black-eyed peas have finished soaking, start browning onions, bell pepper, and celery in 1 tsp olive oil. Brown until a dark brown color, about 10-15 minutes.

Add sausage and brown sausage for about 5 minutes.

Add in the soaked black-eyed peas and 8 cups of water. Stir.

Add in seasonings. Stir and cover.

Let simmer for one hour on medium-low heat. Stir occasionally so that the beans do not stick to the bottom of the pot.

Once beans have cooked for one hour, start smashing some of the beans on the side of the pot and mixing in with the rest of the beans. This is a VERY important step. This gives the beans their creamy consistency.