It is almost summer time and the time for eating chili is fading quickly. Who am I kidding? You can eat chili any time you want. And it just so happened that I WANTED chili.
This recipe is SOO good. In fact, my kids were asking for seconds. For those of you questioning if you can really replace ground turkey for ground meat – you can't even taste the difference. You can easily substitute ground turkey for ground meat.
For those of you who have been following my blog, you know that I also like experimenting in my kitchen – which means I made my own chili powder rather than the packet. Also – this recipe was my own creation after a few times of failing and succeeding.
In order to start this off – you need 3 onions and 1 bell pepper. I used to chop all that by hand, but I now have my wonderful NINJA blender/food processor. It is such an amazing device. In fact, it's my favorite right now. I use it for smoothies and also to chop my veggies. My NINJA just saves me about 15 minutes of chopping time. (Note: Any food processor actually does this – I just have a NINJA). Anyway, you do have to slice the onions and peppers into four sections if you are using a food processor so the blades will be able to cut them.
I let mine blend for about 10-15 seconds. You can let it blend until it is to the consistency you like. I like mine to be chopped really tiny. You can also hand chop your vegetables, if you like.
Once you have your desired consistency of chopped veggies done, you just need to add it to a pot with 1 Tbsp coconut oil. Once again you can substitute the coconut oil for canola or olive oil if you like. Just stick with the 1 Tbsp. You need to saute the vegetables until they are brown.
There is a certain way to brown onions (in my opinion). You have to let it cook, but you have to stand over it and watch so that the pan doesn't burn. It's kinda like when you make a roux. (If you have never made a roux before – its very time consuming.) Browning onions isn't so time consuming though. It should only take 10 minutes of your time. So I like mine pretty brown for sauces that are brown. If I am making a light sauce, then I only cook my onions until they are transparent. Since chili is a brown sauce, I wanted my onions brown. For the onions to turn slightly brown, it took my pot about 10 minutes to cook them. I also have a gas stove, which increases cooking time. You just have to learn your stove and how quickly it cooks.
This is what a container of ground turkey looks like for those of you that have never seen it before! This is the brand that our local Rouses carries.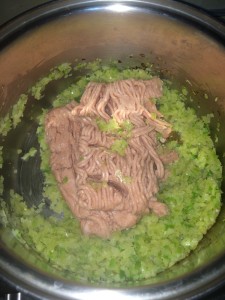 So obviously, I got impatient with my onions. They are slightly brown (this picture just didn't capture how brown my onions were. This was at about 10 minutes. I then added my ground turkey.
So you just have to cook the ground turkey with your chopped onions and bell pepper. Maybe another 10 minutes. Like I've said, you have to learn your stove.
Let's add in the sauce! So I am cheap when it comes to cans because there really isn't any difference between name brand and store brands. For the sauce you need 1 small can of tomato sauce, 1 can of red kidney beans (this may be one of the only cans that I am particular about buying – I use Trappeys red kidney beans), and 1 can of petite diced tomatoes. Add all of these in to your pot.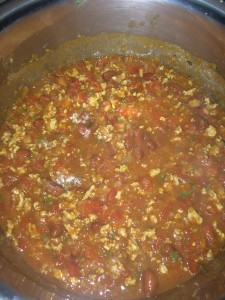 Looks yummy right? While that is all cooking together on a simmer on a medium-high heat, we need to make the chili powder.  Now here is where I'll give you two options: you can either make the chili powder yourself OR buy the pre-made packets. I always have the spices on hand to make it from scratch, so that is what I typically do. For those of you that do not have the spices on hand, you can use a packet.
For the spices you need 2 tsp cumin, 1 Tbsp and 1 tsp chili powder, 1/4 tsp chipolte chili powder, 1/4 tsp garlic powder, 1 tsp parsley, 1 1/2 tsp paprika, 1 tsp salt, and 1 tsp season-all.
You need to mix all of your spices together until well blended. Once you have it blended together, add the spices to your chili. Stir. Let simmer another 20-30 minutes on medium heat.
Pour into a bowl and enjoy! You can also add cheese on top, which is how my family likes it prepared. You can add lettuce, tomatoes, and whatever other toppings to this to make it what you want.
Ingedients:
Chili:
1 – 8 oz can tomato sauce
1 – 15 oz can of petite diced tomatoes
1 – 15 oz can of red kidney beans
3 onions
1 bell pepper
1 lb ground turkey
1 Tbsp coconut oil
For the chili powder:
2 tsp cumin
1 Tbsp & 1 tsp chili powder
1/4 tsp chipotle chili powder
1/4 tsp garlic powder
1 tsp parsley
1 1/2 tsp paprika
1 tsp salt
1 tsp Season-all
Directions:
Chop onions and bell pepper. Add to pot with coconut oil. Brown onions (about 5-10 minutes).
Add in ground turkey. Cook until brown (about 5-10 minutes).
Add the petite diced tomatoes, the can of tomato sauce, and the red kidney beans. Let this simmer on medium-high heat while you make the chili powder. (Note: If you use the pre-packaged chili powder, then you can add it right away. You don't have to let the chili simmer for any amount of time.)
Mix all the chili powder ingredients together. Add to the chili.
Let the chili simmer on medium-high heat, stirring frequently, for around 20-30 minutes.
Serve and enjoy! Add any toppings that you like!