I love (almost) any type of salad. In fact, I usually try to make them for my lunch during the week so that I get all of my veggies in for the day. Besides the fact that a salad is super easy to make, they are so nutritious. And making them at your house will be A LOT cheaper than getting one from a grocery store or even a restaurant.
The prep time for this takes less than 5 minutes, and then all you have to do is either put it on a plate (if you are eating at home) or put in a to-go container (if you're like me and bringing lunch to work).
So, because this literally takes 5 minutes to make, I forgot to take pictures of the preparation. But this was the end result of my lunch today. Sometimes, I like to add chicken if I have leftover chicken from supper the day before. I also usually add in some walnuts or almonds (Only 10 of each because the may be good for you, but they are high in calories.) You can add anything you want to this salad, but all that I put today was strawberries, blueberries, romaine lettuce, spinach, and feta cheese. This even makes a really good side salad for a meal.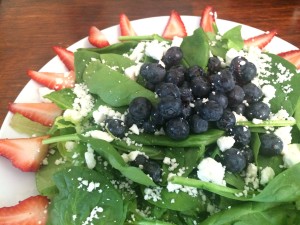 If you are someone that loves fruit and needs a quick go-to lunch then this is your salad! I use wine blush vinaigrette dressing. You can find that at your local grocery store.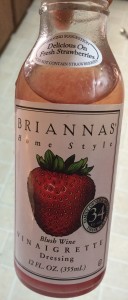 I've tried many different dressing on a fruit salad, and let's face it: ranch dressing is HORRIBLE on a fruit salad. If you have NEVER tried it, trust me when I say – DON'T. (If this makes you want to try ranch on a fruit salad, beware of the taste). So I would really recommend using this as your dressing or some version of this such as a raspberry vinaigrette.
Also, make sure you measure the salad dressing. Dressing can make a salad taste really good, but it can also add in a lot of calories. This dressing has 160 calories per 2 Tbsp. When you put the dressing on make sure you mix your salad together well and don't add any extra dressing. All of that dressing has just sunk to the bottom and you'll be making something healthy with not too many calories into something that has a lot of calories from the dressing.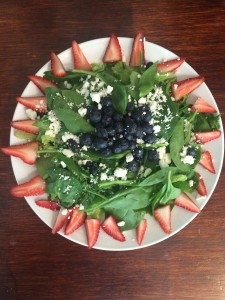 So to make this salad, get your chopping board out. You need a stalk of romaine lettuce. Start at the top and chop until you reach the bottom (don't go all the way to the bottom, but close to the bottom). Place that on the plate and then top with 1 cup of spinach. Now you need to chop 7-8 strawberries into quarters. Measure 1/2 cup of blueberries and put on top of the salad. Sprinkle 2 Tbsp Feta Cheese on top and your salad is done! Top with 2 Tbsp dressing and enjoy this delicious salad.
Ingredients:
1 stalk romaine lettuce or 1 cup chopped
1 cup spinach
1/2 cup blueberries
7-8 strawberries sliced into quarters
2 Tbsp Feta cheese
2 Tbsp Blush Wine Vinaigrette Salad Dressing
Directions:
Chop romaine lettuce. Put in container or plate.
Put spinach on top of romaine lettuce
Top with blueberries, strawberries, and feta cheese.
Once you are ready to eat the salad, top with the 2 Tbsp of dressing.
Serve and enjoy!